Crossmuller was tasked to build on the customer's existing Wonderware footprint bringing our standard Wonderware MES-based warehouse execution platform, integrating it with the new AGV controller, the customer's existing SAP WMS and pallet labelling solutions and the existing end of line PLC control systems.
Integration with Line PLCs
Wonderware's System Platform was used to interface to the existing line PLCs via a standard set of objects and code blocks to handle low level handshaking with AGV vehicles and higher level mission initiation and tracking. This data also allowed for tracking of pallet movement throughout the system and was relayed to the HMI so the operators could see the progress of pallets.
User Interface
Wonderware Intouch for System Platform was used to build a template-based user interface developed incorporating situational awareness principles.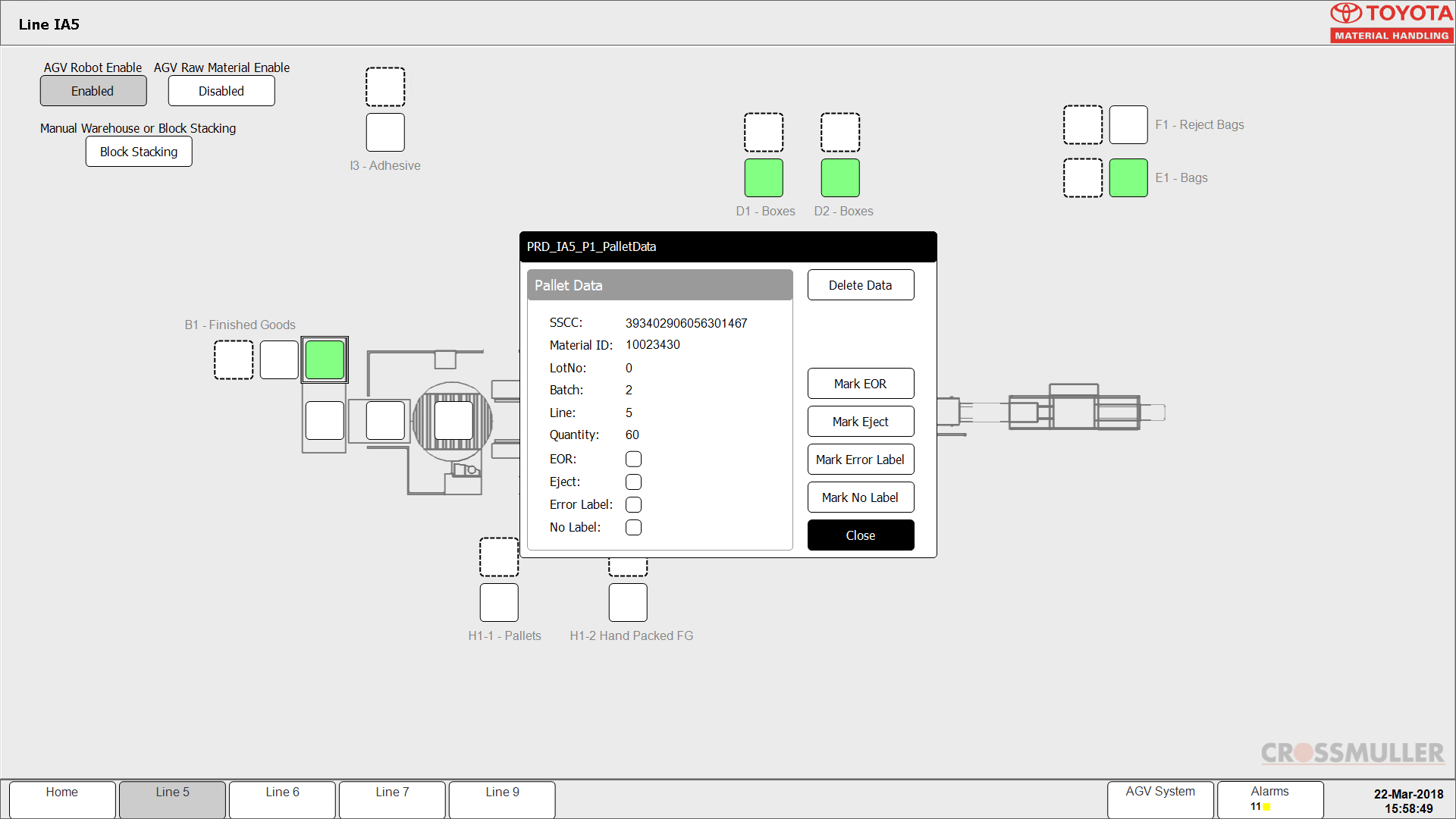 Kollmorgen AGV controller interface protocol
A driver for the industry standard Kollmorgen ACI protocol was developed to provide direct communication with the AGV host software to directly issue commands and receive status updates on vehicles and missions.
Wonderware MES and Blockstacking
A complex set of block stacking prioritization rules were implemented to meet the customer's requirements using Wonderware System Platform as a logic engine and Wonderware MES to store pallet inventory data. The system tracks pending, reserved and dirty locations in order to manage multiple simultaneous missions
The power of simulation
During the project, full simulation of the system was performed in order to validate both the basic operation and interfacing of the system as well as the higher level block stacking and prioritization rules.
End result
The end result was an automated AGV warehousing system, fully utilizing the benefits of System Platform, Wonderware MES and Wonderware Historian. Intouch was installed on portable tablet PCs which gave the operators flexibility and improved visibility of the line operations and the AGV system. The response from the project team was overwhelmingly positive.